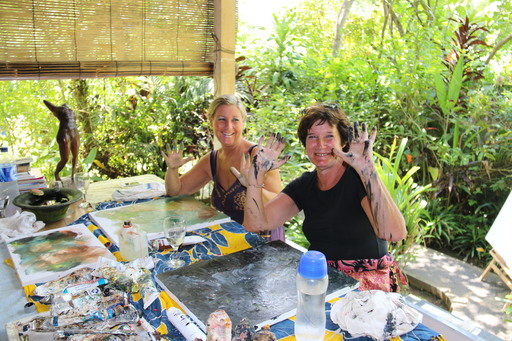 FEEL THE SPIRIT OF ART

A workshop in Bali from Emile is not only learning his way of painting ( with his hands ) but is also a new way to find the spirit for painting. A new way of painting because Emile ask you to listen to your heart and feelings. A way to open yourself and feel what you have to do. Listen to yourself and on the same time you enjoy from every moment that you paint with your hands in the oilpaint.
Not the product the painting at the end is important , but the way how to enjoy and how to do it. But the result will surprise you. After this workshop you know the way how to start your abstract painting and how to express your feelings.
The workshop is maximal 3,5 hours and is including drinks and a lunch and canvas and oil paint . It is an individual workshop by the painter in his home in Ubud Bali.
There is space for two workshops in the week. So email 1 week before.
Between 10 o clock in the morning and 14.00 hour in the afternoon. His balinese wife serve the drinks and lunch. The price is 100 euro including all.

A small group is possible - 2 or 3 persons - 75 euro pp - 4 pers maximal 4 pers is
50 euro pp. The workshop will be maximal 3 hours.
Small snacks and drinks include and canvas and oilpaint. Please make appointment some days before.
Emile can send a taxi for pick up when you stay in an hotel outside Ubud.

You will never forget this workshop.
Information: emilesvv@hotmail.com